South Korea is pioneering the world's semi-conductor market,
SK siltron is at its start
SK siltron that has been part of the domestic and overseas semi-conductor industry for
over 40 years and will not stop for being until becoming the 1st #1 silicon wafer
manufacturer in Korea. It will endeavor to become a global semi-conductor material
company, furthermore, and carry on the reputation of South Korea for being a semi-conductor super power.
Overview
Overview

| | |
| --- | --- |
| Company Name | SK siltron Co., Ltd. |
| CEO | JANG YONG HO |
| Date of establishment | April 25, 1983 |
Overview

| | |
| --- | --- |
| Business fields | Manufacture and sales of silicon wafer (silicon ingot) |
| Capital | KRW 33.5 billion |
| Address | 132-11, 3gondan 3-ro, Gumi City, Gyeongsangbuk-do (054.470.8499) |
SK siltron will develop into a GLOBAL LEADER in the field of semi-conductors
through fundamental competitive innovation in technology,
manufacturing, infrastructure and talented people.
In the field of semi-
conductor materials
Technology innovationTechnology development
in the fields of high-tech
products and growth
Manufacture InnovationProductivity innovation
by enhancing process/equipment
efficiency enhancement and
reinforcing quality standards/management
Infrastructure innovation

DT-based process/logistics automation and production information automation

Talent innovation

Reinforcement of employee competency by securing a professional workforce and by fostering developing the workforce systematically
CEO

JANG YONG HO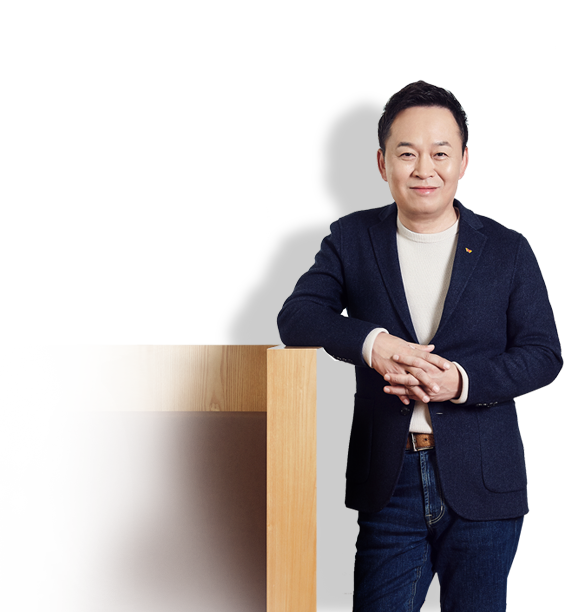 SK Siltron is always on the cutting edge of semi-conductor materials,
leading the global market by intensively innovating our manufacturing process, technology, and product quality.

SK Siltron has grown throughout its 40-year history in the semi-conductor industry, and is the only manufacturer in Korea
specializing in semi-conductor wafers.
Based on its long history in mass production and years of accumulated expertise,
SK Siltron is aggressively building more factories and is continuing to strengthen its competitiveness in manufacturing and technology.
The company is also expanding its business portfolio to include new-growth businesses, such as SiC wafers, for both quantitative scale and profitability, consolidating its foundation to become one of the world's best semi-conductor material manufacturers.
At SK Siltron, we seek to achieve global, top-level performance through intensive innovation in the areas of manufacturing, technology, and quality by actively perfecting the four processes of growing, shaping, polishing, and cleaning.
We are also working toward "zero quality issues," and are making every effort to firmly establish SK Siltron as a leading company that satisfies all of its customers' needs.
We will continue to upgrade SK Siltron's safety management practices to achieve our goal of "zero safety accidents" so that all customers, partners, and stakeholders can be rest assured that the company employs only the world's best safety measures.
Based on SK Group's "Happy Management" philosophy, SK Siltron will continue to realize the happiness of its customers, partners, and
local communities by growing and developing together.
We ask you for your continued support of SK Siltron.

Thank you.

Management Philosophy
SK

Management System

SKMS, which was first enacted in 1979, is comprised of management philosophies of SK and
methodologies for materializing reality management. and SKMS has acted as a foundation for
establishing SK corporate culture through mutual agreement and sharing between all SK members.

Customer Continuous
customer satisfaction Customer's
Trust and choice

Shareholder Generation of
Corporate value

Investment

Society Generation of economic
and social value Trust and Support
regarding corporate
activities

Members

Sense of achievement from Work
and growth Contribution to
corporate development

Corporate
Happy stakeholders

A corporation has to ensure that the happiness between stakeholders strikes a balance with harmony while simultaneously considering the happiness of the present and the future in the long run. A member of a corporation is one of the stakeholders of in the company and at the same time, is the principal that constitutes a company. We must believe that the happiness of all members would will grow when happiness of stakeholders are is pursued and that this would maintain the happiness of each and every member.
Pursuit of SUPEX through VWBE

Amidst the rapidly evolving environment, a corporation has to consistently generate the best performances by pursuing SUPEX* in order to enlarge the happiness of stakeholders. For this, members of the company contribute to the generation of performances by exhibiting their maximum competencies through voluntary and willing brain engagement.

* As an acronym for Super Excellent Level, it is the best level of standard that can be achieved with human competency
The way we work
Challenge New value / creative thinking / bold attempts Collaboration Common objective / Communication and
understanding / One Team Spirit Immersion Focus on essence / Potent implementation with
all of one's might / Joy of working process
V

W

BE
Voluntary and Willing Brain Engagement
View SKMS in detail