Businesses
SK siltron is a manufacturer specializing in
Silicon Wafer which is an essential material in semi-conductor process.
Polished Wafer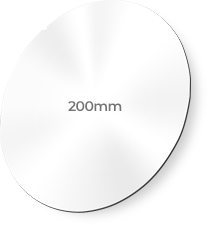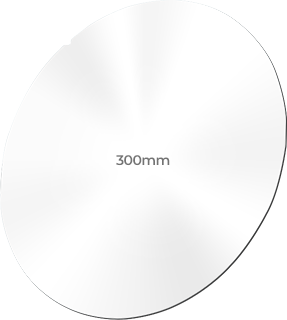 200

mm

Non-memory chip

Logic (Driver IC)

Sensor

300

mm

Memory chip

DRAM

Flash(NAND)
Epitaxial Wafer
200

mm

Non-memory chip

Analog (PMIC)

Power Discrete

CIS

300

mm

Non-memory chip

MPU(microprocessor)

CIS(image sensor)

Logic (Driver IC)
Company Highlights
Manufacturing technology of large diameter wafers for semi-conductor

1

Designated as 'National Core Technology' of South Korea

Silicon Wafer is a field with high entry barrier as only a small number of companies in Japan, Germany and others possess the manufacturing technology.
SK siltron is the only domestic company that supplies products to global semi-conductor companies based on world-class Defect Free Crystal,
Small Size Particle Control and Super Flat Surface Control technology.

in the world of Silicon Wafer manufacturing

2

Global TOP Ranker

SK siltron has recorded GLOBAL TOP 5 with 10.6% market share based on revenue within the global Wafer Suppliers and GLOBAL TOP 3 with 15% market share based on 300mm Wafer Capa.
(*As of 2018)

through stable product supply

3

Steady sales growth

SK siltron has achieved steady average sales growth average of 3.2% per year over the past 10 years.
In particular, amidst the growth of semi-conductor market in 2018, SK siltron has set a new record for the highest sales in its history since establishment by recording
a growth rate of more than 40% compared to the previous year, thanks to the expansion of long-term contracts with customers,
ultimately preparing a foundation for visible growth for stable sales.

Technology development partner for leading-edge semi-conductor producers

4

Leader of next-generation semi-conductor technology innovation

SK siltron is being acknowledged as joint technology development partners by providing wafers for mass production for the leading-edge products of
global semi-conductor corporate customers. We will pioneer technology innovation at the front line of for the next-generation semi-conductor technology through continuous technology
development and quality enhancement.

Through an innovative in business model that simultaneously pursues Economic Value (EV) and Social Value (SV)

5

Corporation that pursues coexistence of customers, corporation and society

SK siltron does its best to proactively contribute to the social development, beyond the previous passive method of 'social responsibility'.
We generate social value that enables sustainable happiness in all stakeholders, not just the stability and growth of the corporation.
Through this, we create a virtuous cycle in which the company naturally advances and develops.

materialized with management that prioritizes SHE

6

Environmental-friendly, zero-disaster business premise

SK siltron that pursues an 'environmental-friendly, zero-disaster business premise' achieves SHE management (explanation of SHE definition) in all management activity stages.
After being designated as the first green company in 1998, SHE certification was obtained in all domestic business premises.

through preventive production control in advance

7

ZERO disaster/defect/malfunction/customer complaint

Members of SK siltron pursues the materialization realization of zero disaster/defect/malfunction/customer complaint through'preemptive preventive production control
with participation by all members in advance' which in turn, establishes the foundation for stable production and supply.

hard-earned trust over decades

8

Reputation for 'BEST PARTNER'

SK siltron that has solidified partnerships with prominent global semi-conductor producers over decades based on concrete infrastructure and reliable technology.
SK siltron will continue to provide the best customized solutions in the future.